February 21 2012
3
21
/

02
/

February
/

2012
05:08
Note: You may not realize it, but you can't read this during martial law¾'72-'86. I got to read this myself only today as I typed it in my PC, having found it damp and muddy after Typhoon Sendong. Caught reading it then, I mean, during the Marcos dictatorship would send you finishing it in a military stockade and languishing in it for who knows until forever because they had thrown away the key.
________
The Waterlogged Files #04
Father of Fairview Residents Assassinated
"Cesar C. Climaco Killed in the Philippines"
By Patty Cooper
Of the Journal Staff
BELLEVILLE¾November 13 started like that of any other evening with Cesar F. and Sandra Climaco of Belleville readying their six children for bed. Then the phone rang and their world fell apart.
The 9:30 p.m. call reported that Mr. Climaco's father, Cesar C. Climacohad been assassinated while fighting a fire in the small town of Zamboanga in the Philippines. He was killed by a .45-calibre handgun.
But from the beginning, the Climaco's [sic] had their doubt's [sic] about a citizen being responsible for the murder. These doubts were verified later in the week with another call from a friend in New York.
Before the senior Climaco's death a hearing had been scheduled to investigate allegations by Cesar C. Climaco of election fraud. The call said the hearing has now been cancelled because the only witness was dead.
That's why he was killed, said Sandra. The United States supports the government of President Ferdinand Marcos because of the free elections. If election fraud could have been proved, the American government would have been upset, she said.
Sandra charged, "while they (the U.S. government) look the other way to murder, torture and civil rights violations, election fraud might reduce the financial and military aid."
The election fraud stems from an incident several years ago when the senior Climaco physically laid on some ballots that were switched. He supposedly had evidence that would have identified the perpetrators as Marcos supporters.
As soon as the death of the senior Climaco was reported, Cesar and Sandra began making plans to go to the Philippines for the funeral. Shortly after a call told them to stay home. "We were told it's too dangerous," said Sandra.
The senior Climaco has been involved with the opposition since martial law was declared in 1971. As a constant reminder, he refused to have his hair cut until civil rights were restored in the Philippines.
Since that time, he has been an outspoken opponent of Marcos, said Sandra. "Every time there was a death or torture, he would speak out and write Marcos telling him something was wrong.
"Daddy was for a peaceful transition. He would tell what the people wanted."
If fate had not been stepped in and stopped the senior Climaco, he might have been given the chance to speak for he people.
He had been recently elected to the Parliament in May, an equivalent of the U.S. Senate. Cesar C. Climaco was also the mayor of the small town of Zamboanga.
The senior Climaco was a long time friend of Benigno ''Nino" [Ninoy] Aquino, who was kidnapped and killed a year ago. Both were opposition leaders, said Sandra.
"He was the ideal Christian. If he had one coat he would give it up... if he had enough, he would give, even if he didn't have enough, he would give," she said.
"Daddy knew he could be killed, but he said he would give his life for his country … he believed in law and order."
Cesar C. Climaco is survived by his wife Julpa, an American citizen who lives in the Philippines: six children, Dr. Cesar F. of Belleville, Julio of Fairview Heights, Dr. Augusto of Belleville, Delora of Belleville, Erwin of Fairview Heights, Lalla of Oregon; and 14 grandchildren.
In his memory a mass was said Monday evening at St Peter's Catholic Church in Belleville. End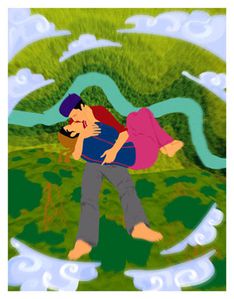 "TheLegend of Pulong Batu''-Illus. Zabala